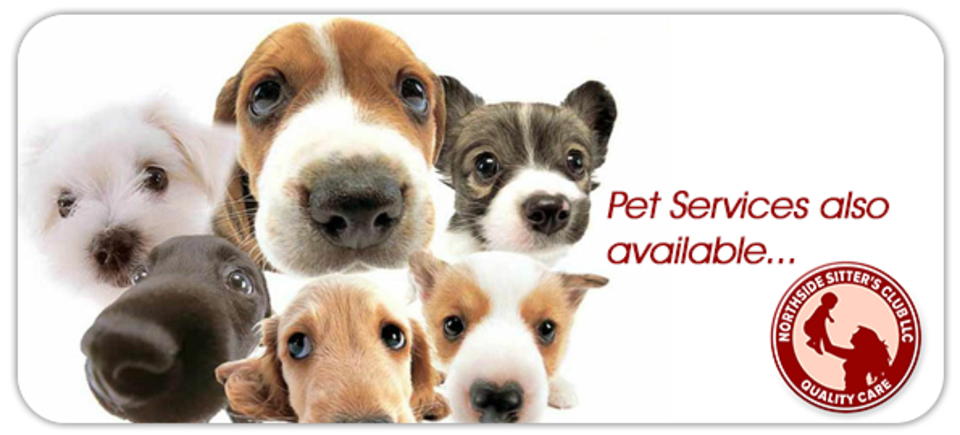 My pets are always in good hands with Northside Sitters. I leave them with there assigned Sitter and I know they are in goods hands at all timed makes my trips less stressful.
Daily Walks—  Pet Sitting— Overnights—Vacation Care

 Walk your dog 15-20minutes giving them some fresh air and a potty break that are in good health.
 Feed your pet and provide fresh water with every visit. (in travel range)

30 minute Pet sitting visit includes:

Play time, with love and attention.

Excercise/walking, medication if needed.

Clean out litter boxes and scoop yard every visit.

Bring in mail,newspapers, and set out your garbage.
                            
Water your plants both inside and out.

Overnight visits are for 10 hrs and include the same as the pet sitting visit.

Vacation Care we can provide two same day visits.

Pet Transportation to any Vet,groomer,emergency. trip (in travel range)

Holidays upon availability—Extra charges added per visit for holiday services.

Please call and schedule any service 48 hrs in advance— Additional emergency fee will be added for short notice.

Cancellation fee applies to any service visit cancelled less that 24hour notice.

Almost all common pets
Dogs,Cats,Birds,Reptiles,Rabbits,fish,Non-poisonous Snakes (we will not feed snakes live food such as mice or rats)

Most Importantly, your pet receives love and attention while your away.